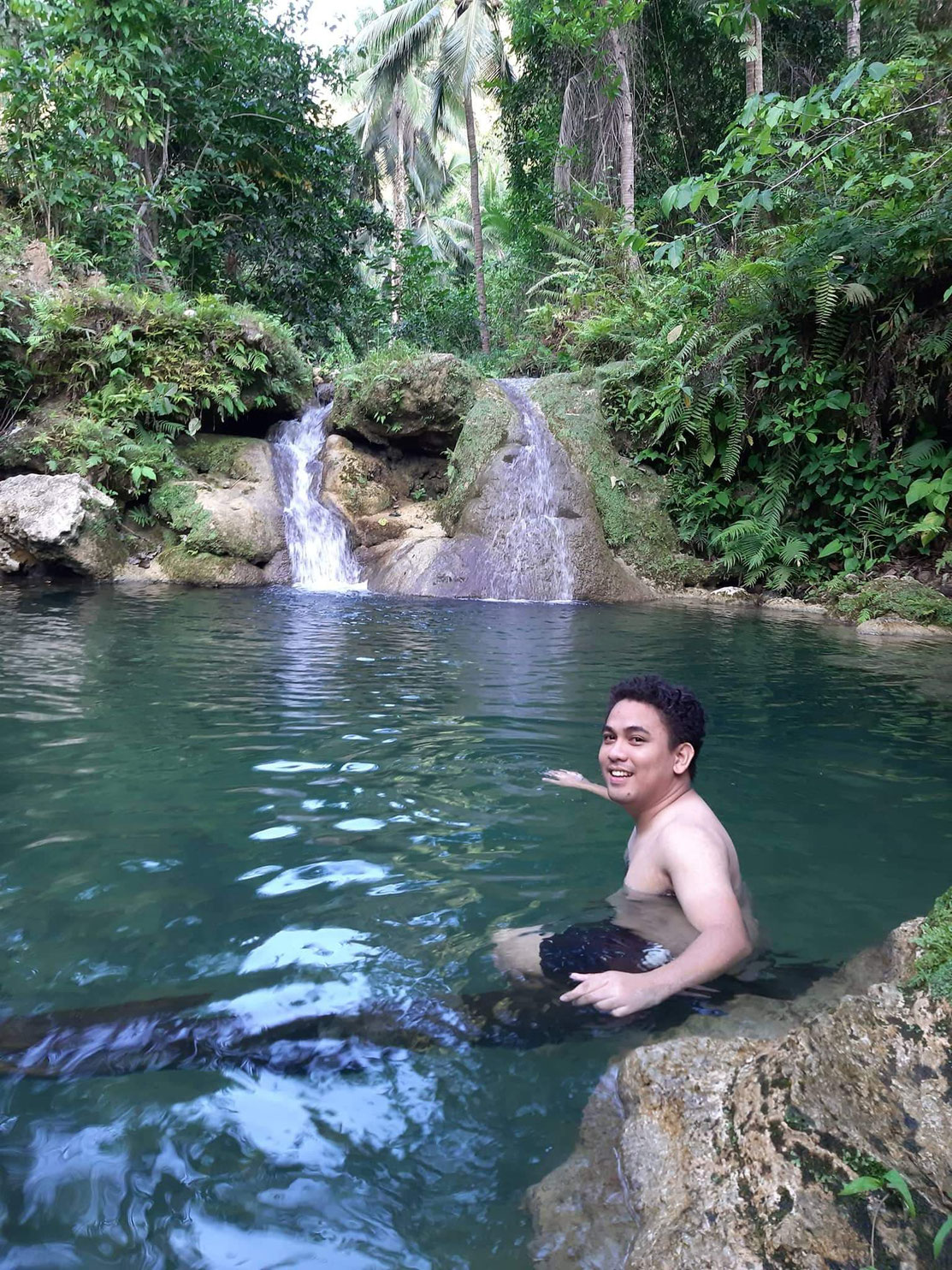 Breathtaking sceneries, majestic mountains, mystifying falls, and a relaxing sea breeze. Such beauty can be found in Pinamungajan, a place I call home.
Located at the southwestern part of Cebu island, Pinamungajan can be reached from different points of Cebu. Reaching the first town gives you the feeling of a perfect rural setting. Streets are not populated with cars and traffic is just a memory. The only thing to see here is the simple life of the locals. Indeed, this is the best place to relax and to get away from the hustle and bustle of the city.
It has been 3 years since I last visited this town. It was the time when our grandmother was laid to rest. It was a devastating event for us as she was the only remaining grandparent of the clan. Her passing affected me because, of course, she had been a vital part of my life. No more Lola (grandmother) to welcome us when we visit and celebrate the barrio fiesta (town festival). No Lola to stuff us with "tuba" (coconut wine) and "budbud" (rice cake wrapped in banana leaves) and other local food. And no Lola to scold us because we forgot to fetch water from the "tabay" (deep well). And this was a task we hated the most -mainly because we had to follow narrow trails to reach the other side of the mountain where the water well was located.
The Bumpy Ride
Two weeks ago, I had the oppurtunity to visit the place again. To get to Opao - one of the remotest barrios there and our destination, we had to hire a "habal-habal" (motorcycle) driver. This is the most convenient means of transportation to use as it is really difficult for cars or any low-powered vehicles to get there. The trip is tough and never easy because you need to drive off-road. But we endured the bumpy ride. Though the trip was challenging, it was all worth it when we saw how beautiful the view was. We were welcomed by Mt. Kanlaon which can be clearly seen from where we are standing (Pinamungajan is just facing Negros and Tanon Strait).
Eating Galore in "Barrio Fiestas"(Town Festivals)
When we arrived at our house, we quickly took a snooze to regain energy. We arrived at around 8 am and rested for 4 hours. It was already past twelve when we woke up, so we have to take our lunch first before we leave. Before we started our adventure, I made sure that our stomachs were full because we had lots of activities up ahead.
In "barrio fiestas", food is never a problem because most households will invite you to eat with them. This is Filipino culture. "lechon" (roasted suckling pig), "bulaklak" (deep-fried ruffled fat) and many other mouth-watering delicacies were being prepared by my "Titos" (uncles) and "Titas" (aunts). In total, we had 3 rounds of eating as we visited 3 houses at that time. After the eating spree, our stomachs were stuffed so much that we needed to unbutton our pants to accomodate its bulging size.
The Da-o Falls
To burn the food that we had eaten and to beat the extreme heat, we decided to go to Da-o River. I used to swim here with my cousins when we were young. I can still picture how pristine the water was. Dao, as called by the locals, is located on the mountainside and also in the middle of a forest so it can be quite challenging to go there. Added to which, is the possibility of getting lost without a guide. Even I cannot clearly recall the path so with my cousin's assistance, Ramel, we were able to get to the place. I was stunned when I saw how the river had kept its beauty. The water was still clean and clear, unscathed by the harshness of time. We had a great time soaking our tired bodies there.
Non-stop Disco
Celebrating a "barrio fiesta" isn't complete if you don't experience dancing the "Budots" dance craze and the immortalized Cha cha cha! So we went to the activity area and joined the locals in enjoying the beat of the music.
Hidden Valley Wave Pool Resort
The following day, we went to the chapel and offered our prayers to commemorate St. Isidro Labrador's, our patron saint's feast day. Next, we packed our things and left Opao. The adventure was still far from over as the group decided to go to Hidden Valley Resort-the hidden gem of Pinamungajan. From the mainland, we hired a "habal-habal" and reached Lamac in half an hour. One of the main attractions of the resort is their wave pool. As the name suggests, the swimming pool there literally produces its own waves. Thanks to the machine that creates such waves. We weren't able to use this amenity as we are out of budget already but we were able to enjoy the place still.
Visit Pinamungajan now!
For adventure seekers, Pinamungajan has much to offer. Trekking, mountain and many other outdoor activities can be enjoyed when you come here. Plus, you will definitely fall in love with the wonderful views here. Worrying about where to stay? Well it is not a problem for there are numerous hotels and resorts here where you can chill, dine and, of course, feel relaxed. So what are you waiting for? Come and visit Pinamungajan now!
And though I was not born nor raised here, it made me feel I belonged. And to this day, this is where my heart remains… To me, this is home.