Teachers are learners, and learners are teachers too. This means that everyone in this world is, in his or her own way, a teacher. Yet, there are those who really have the heart and passion to teach and inspire others.
Meet some of our Linguage instructors, and know the reasons why teaching is their career choice.
---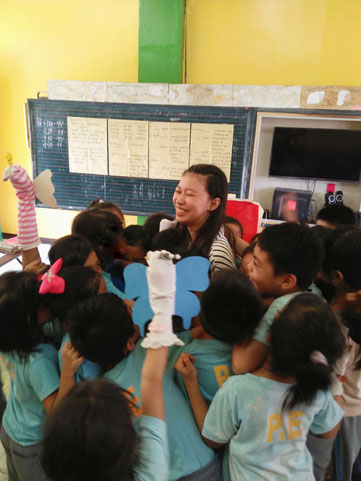 This picture was taken during the last of day of my practicum at Lahug Elementary School. Presenting my dear third grade Science Class pupils with their art! Using only recycled materials, they were able to make creative animal puppets on their own. This was also one of the turning points in my life when I understood that "Teaching is a work of the heart."
Teaching is a calling I've been following since I was young. I decided to be a teacher so that I could truly impact the lives of learners. I enjoy teaching because I get to impart knowledge while learning something about myself. I seriously take my responsibility to mold young people into kind, thoughtful, and purpose-driven individuals. I have always been so grateful to my teachers for making me the person that I am today. I only hope that I can make that same kind of positive impact on the minds and hearts of my students.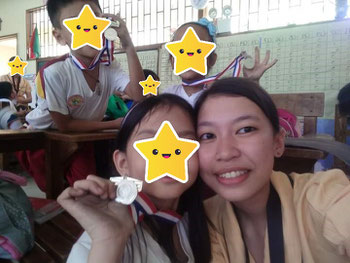 This picture was taken right after the awarding ceremony at CNU Integrated Laboratory School. In the Hunger Games-themed quiz bee, these three adorable and quick-witted students took second place. The odds were truly in favor of District 6!
---
Teaching has been my passion ever since. I remember when I was young, I would conduct classes with the kids in my community. It felt good to be able to share my knowledge to others and to see them develop their skills. That's when I decided to be a teacher. It's a pretty challenging profession because you have to deal with different kinds of students but at the same time, it's fun because you are not only teaching, you are also learning.
---
It has always been my dream to teach. The fulfillment I feel from every student's famous line  ''Thank you, teacher, for teaching me'' is immeasurable. In addition, I get the chance to understand people beyond cultural differences.
---
Teaching is indeed a very challenging profession. However, I have had a burning passion to become a teacher since I was young. There are two main reasons why I love teaching. The first one is that I just love teaching and other things related to it. I used to teach my classmates how to read when I was young. My high school teachers used to ask me to do some tasks for them as well, such as checking papers and writing notes on the board which I always gladly did. The second reason is that I want to impart knowledge. To be able to touch people's lives through teaching is a great accomplishment. And being a part of my students' successes gives me great pleasure. It has not been an easy journey as I encountered a lot of obstacles along the way but I chose to stick to this profession because it's what my heart truly desires. Consequently, I think I'm really meant to touch other people's lives by imparting knowledge and values. I'm still not that competent, so I'm working hard to hone my skills further to become a better and more effective teacher.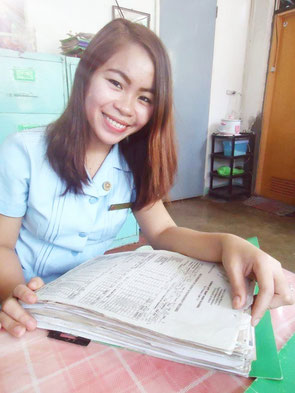 This picture was taken a few years ago. I was sorting some documents in the principal's office.
---
Teaching was actually just my second preference. As a child, I would imagine myself holding a ladle, wearing an apron, and cooking in a luxurious restaurant - I used to dream of becoming a chef one day. That didn't happen, though, as I gave in to my mother's request - that is, to study education.
Moving forward, as I finished my degree in education, bringing with me different ideas, teaching approaches, and experiences, I realized how versatile a teacher is.  It changed how I think and feel for teachers. As they say, a teacher can make or destroy a child. With that, I decided to become a teacher. Being a teacher is a challenge and an opportunity to touch other people's lives. As a teacher, I have the chance to help students, hear their stories and learn from them at the same time.
 "Teaching has never been a bed of roses" our professor once told us when I was in college. I agree, but it's a choice I chose.
---
---
"Teachers plant the seeds of knowledge that last a lifetime."  -Anonymous
---
My grandfather, who was a teacher himself, inspired me to be a teacher. Everyone in the family pursued different careers. However, I wanted to follow his footsteps… I am glad I did.
My love for children also made me decide to choose this profession. I was not only the youngest among three female siblings, there was a big difference between my age and theirs as well. This paved the way for me to thrive in an environment full of children. In this case, my elder sisters' children. Being around my nieces and nephews developed my love for children. It made me recognize the importance of nurturing children at an early age. Building up the foundation is the most crucial part in their learning, thus, teaching them to speak English as soon as they start nursery greatly impacts the development of their proficiency in speaking as they grow older.
Choosing your future career starts the very moment you decide to choose your degree program. When I had to decide what profession I should pursue at university, I did't have to think twice about picking teaching. I have always been passionate about being part of the workforce that molds the minds and character of every child, enabling them to be upright citizens with role contributions in society.
---
To be honest, I had never imagined myself as a teacher. I was only looking for work to gain experience and to earn an income. I didn't expect that I would become a trainee in the DOLE JobStart Program. I started with no prior experience and many doubts, but thanks to my co-Jobstarters and trainers, I now have the confidence to believe I can do it. I eventually liked my job as a teacher because I put to use what our trainers taught us. I am more motivated to improve my teaching skills as an ESL teacher because I still have many shortcomings, and my students expect to learn from me, which motivates me to grow even more.
---
Teaching is where I belong. When I was young, I would pretend to be a teacher and give myself lectures while writing on the wall with crayons. My teachers motivated me to pursue a career in education. At first, I was concerned since I was hesitant to speak and communicate with others. However, they were really patient and they helped me see the future that still awaits me. Later, I understood that teaching is my passion. I worked incredibly hard and took on all the challenging tasks to prove to myself that I am competent to become a teacher. In the end, I chose to become a teacher, and this is my true calling.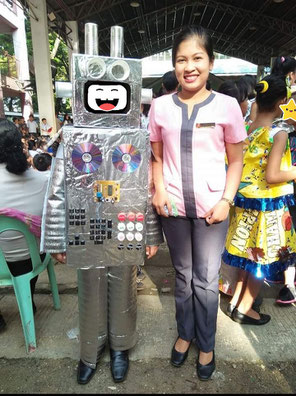 "Science Month Celebration"
Transforming trash into a work of art.
---